My very dear friend Chengie, who is just too cute for words and one of the most original artists in both photography and her scrapping skills I have ever met. She has become a friend that I can giggle with long into the night over IM, and we talked once on the phone. Beyond fun!
Chengie lives in South America! That alone is so cool to me, in a small country, that I had to go and read Wikipedia to know where it was at and learn about this country.
Suriname.
Chengie has been giving away freebies, desk tops and more on her fantabulous blog,
68 ways to express yourself
for quite awhile! She had a few freebie kits here and there, that I enjoyed too. I highly recommend going to her site and signing up to receive her newsletter for special things!
Last month, Studio 68 quietly opened a store at
DigiScrap.nl
, this was just the beginning!
Today
Studio 68 opens at Zig Zag Scraps
! To celebrate her team has made a whole bunch of QPs to give away. All made from this fabulous new kit
Chatterbox
: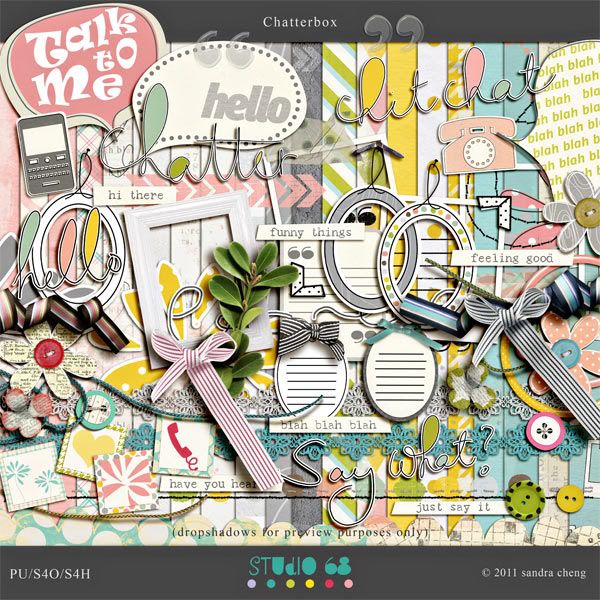 Here is a preview of my QP for you:
FOR A LIMITED TIME,
get the Kickstarters 5 for FREE
(Offer ends Monday April 25th)
I played with Chengie's templates along with Chatterbox, and here is my layout:
and one more
Renate aka joshgirl for a gorgeous quick page!
Enjoy and go browse Studio 68, pick up a few things and enjoy!
Enjoy your hop!